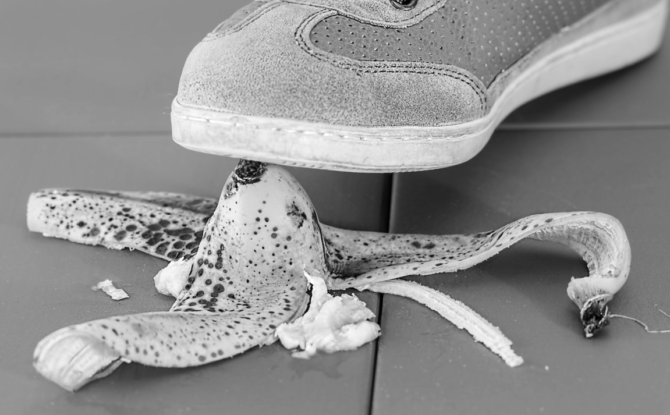 5 easy things every workplace can do to manage foreseeable safety hazards
It might seem extremely obvious, but maintaining a clean and clutter free workplace is one of the simplest things you can do to look out for the health and safety of your workers. Slips, trips and falls are more prevalent than you think, contributing to more than 23%[1] of workplace compensation claims in Australia.
"Almost every time I enter a workplace for a consultation, I can immediately see several hazards that could very easily be avoided. All it takes is a moment to stop and look around to see what they might be."

– Ryan Baldwin, Junior OHS Consultant
So, what do you need to do? Well, see if you can easily sort some or all of these 5 things out:
Clutter – Is there anything obviously messy and untidy? Perhaps piled up boxes of files by your desk or unnecessary items in walkways. Think about ways you can properly store important items that people need to access… otherwise move them into storage.
Slippery Floors – Look for wet areas, then identify a way to keep it dry!
| | |
| --- | --- |
| Potential Hazard | Potential Solution |
| Excess water at the entry to your office on wet days | At entrances, on wet days, consider umbrella bins or bags. If placing down mats, make sure that these don't become a trip hazard! |
| Excess water in kitchen and bathroom areas due to spills | Have a conversation with workers to understand the cause. It may be as simple as there is no drying rack or tea towel. Avoid just "hanging" signs like "Keep Dry" –before understanding the cause. |
| Leaks where chemicals are stored | Store chemicals on trays or in containers, so any leaks are contained. |
Cables and cords – Ensure that your electrical cords are properly secured and covered to avoid trips and other electrical hazards. This can be done using tape and/or velco covers.
Open Drawers – Empty out those draws so that you can close them! Filing cabinets that are overly full from the top, may actually tip over when opened, due to the weight of the contents.
Hygiene – Again, it might seem obvious but colds and flus can spread easily in workplaces. So, make sure the hand soap is filled up in the bathrooms and kitchens or supply hand sanitizer to prevent these bugs from spreading. Make sure the office and computer equipment is kept clean.
That's it for now. These might seem obvious, but you wouldn't believe how many issues you will avoid by managing the simple things.
Be aware though that this is not an extensive list. You really need to routinely take some time out to review your workplace and think about how you can better protect the health and safety of your workers. If this means writing a list of routine tasks that need to be completed – then make that list or, even better, think about establishing a safety management system!
By the way, if closing out the tasks from your 'routine list of health and safety tasks' becomes a problem, then perhaps a cloud-based solution like Safety Champion may be something for you to consider. Take a product tour today.
[1] Australian Workers' Compensation Statistics 2014–15 (revised July 2017)