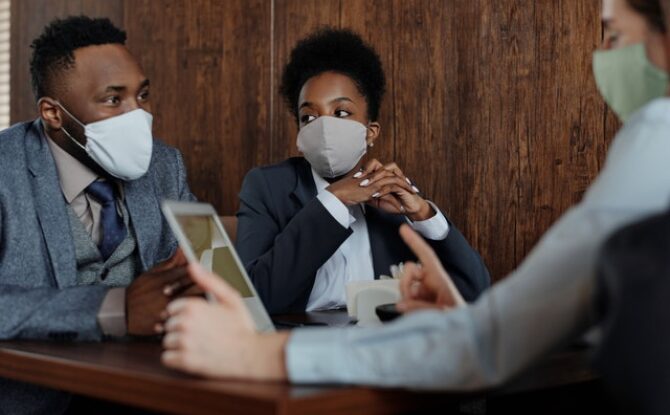 3 WHS Management Considerations for the Current and Future COVID-19 World
The COVID-19 pandemic has developed an extraordinary set of circumstances revolving around work health and safety. The viral infection that has severely impacted the world has raised concerns among employees, employers, and worker representatives, especially for team members who are still required to work on-site or beyond the confines of their homes and those returning to work at the ease of quarantine measures. 
Organisations have begun to generate and circulate new protective measures for their staff, accompanied by a rise in demand for technologies that respond to the global crisis. These solutions include the incorporation of a WHS management system. 
A WHS management software is primarily designed to oversee the health and safety requirements of organisations regardless of size and industry. The platform covers tasks that include efficient incident management, risk and hazard identification and assessment, automatic alerts for license and equipment expiry, health and safety documentation and training as well as WHS report generation, among others. 
As we struggle to adapt to the new normal, the features of a WHS management software have a bigger role to play in a world inflicted by COVID-19. The World Health Organization recommends developing an action plan to prevent and mitigate COVID-19, which should be based on outcomes of risk evaluation and the company's epidemiological landscape. 
Since much is anchored on risk assessment and the implementation of safeguarding measures, traditional WHS management methods won't simply suffice as the pandemic persists and as industries cope with its eventual aftermath. 
Check out new factors that ought to be considered by establishments when it comes to overseeing WHS during and after the coronavirus. 
Alert relevant authorities on COVID-19 cases 
Should there be a confirmed or possible COVID-19 case at your workplace, you need to notify the local WHS authorities regarding the case, which must be confirmed and diagnosed by a medical practitioner. 
Your infected – or possibly infected employee – should receive immediate treatment as an in-patient in a hospital. Follow the health advice in this regard. Meanwhile, for members of your workforce who have potentially come into contact with your infected worker, testing must ensue. 
Local government authorities must also be able to address all concerns on advice and assistance on matters linked to the pandemic. Your organisation, on the other hand, must be 100% compliant with implemented requirements to avoid exposure to unsuitable risks on health and safety. 
For instance, daily health checks are recommended by the Centers for Disease Control and Prevention as part of business response towards COVID-19. You can accomplish this with the assistance of a reliable WHS management system. 
You can program your WHS management software to directly deliver health checks to your staff, so they can complete their questionnaires swiftly and easily with their preferred device. Responses can be automatically collated and high-risk workers can be weeded out and sent to self-isolate or receive direct testing. They can also be subject to increased monitoring frequency. 
These capabilities of a work health and safety management system can help you identify positive cases within your workplace, which you will eventually report to local authorities. Additionally, it can help you keep tabs on high-risk individuals working in your company, so that you can anticipate the appropriate response that will ensure your staff's safety and health. 
Implementing such technology can also be extremely helpful for future use, so it's wise to browse EHS software solutions and compare features at this pressing moment. Once COVID-19 dies down, you can incorporate your WHS management software to your WHS procedures when it comes to addressing other viral health concerns within the workplace. Should there be another infection, you're sure that your organisation is more equipped to handle the impending crisis.
Practice contact tracing if a staff member comes into contact with someone infected with COVID-19 
During this time of crisis, it's time to take an active approach towards work safety. If one of the members of your staff has had close contact with an individual who tested positive for COVID-19, it is imperative to direct him or her to self-quarantine, so that the virus will not spread in your workplace. It is also mandatory to supply significant information to contain the infection. 
Meanwhile, team members who are not classified as close contacts do not have to undergo quarantine; however, they should be attentive to the signs and symptoms of COVID-19 by continuously monitoring their health conditions. Once again, you can use your work health and safety management system to assist in conducting health checks and determining high-risk individuals.
Always ensure you follow health advice from government and WHS regulatory offices.
Additionally, the structure of WHS management system that you are implementing in your organisation should adhere to recommended social distancing and hygiene procedures. 
For instance, you can rely on your WHS management software to automate monitoring and auditing of day-to-day sanitation and maintenance tasks, so that you can see whether hygienic measures are being strictly enforced. 
You can also rely on your WHS management system to determine whether these processes have been effective in containing the virus and slowing down the spread of infection. 
The new structure of the WHS management system in the market should also include COVID-19 related functionalities such as compliance modules, inspection checklists, and survey forms. We'll explain more of these in the succeeding point. 
Subscribe to a WHS management system to harness workflows, files and templates
Most WHS management software comes with pre-inputted health and safety workflows your workplace can choose from. This is one of the reasons why managers are introducing WHS software to their businesses. 
As the pandemic persists, providers have keyed in and updated these workflows to meet the demands of the current crisis. These workflows are drafted from legal policies, compliance standards and other relevant aspects related to WHS during the time of coronavirus. 
Alternatively, if you want to implement specific aspects that are tailored to your business when it comes to combating COVID-19, you can also create your own using your WHS management system. Safety Champion is one such example of a configurable system to fit your needs.
Once your organisation picks a workflow and designates it to a workplace, the team members assigned to execute the WHS program will receive a notification prior to and on the day the task is scheduled to be accomplished. If the WHS assignment has not been ticked with the platform, alerts will continue until it is completed, which guarantees that all WHS-related work is finished. 
As for recurring tasks like sanitation, which is highly applicable to the current situation brought by the global pandemic, they will be automatically rescheduled upon completion. Rescheduling will adhere to assignment frequency, which will be determined by the organisation's management. 
Upon task completion, your work and health safety management system can also house any uploaded proof that showcases the fulfilment of an assignment or an inspection, which is very helpful when local authorities check your establishment for compliance. You can also show this documentation for future health and safety regulator visits after the pandemic. 
Should there be a need to answer to demands from bigger clients or tender applications, this documentation can also be supplied by the structure of WHS management system. All these complex processes and cumbersome work can be simplified with the appropriate tools supplied by your WHS management platform. 
Adapting to the new normal with firm WHS measures and powerful technology 
Most WHS management software in the market have now come up with new solutions that respond to the COVID-19 crisis. Considering urgency, these capabilities can be deployed instantly and without extra costs for companies. 
Safety Champion is no exception as it assists customers in overseeing COVID-19 risks and effects by introducing free new functionalities, templates, workflows, configuration bundles, which are all built on World Health Organization guidelines and standards from the Centers for Disease Control and Prevention. 
We are currently offering solutions that help visualise, understand and address risks brought by the COVID-19 pandemic. Reach out to us today to discuss how we can support you with your safety management and COVID-19 risk management planning.