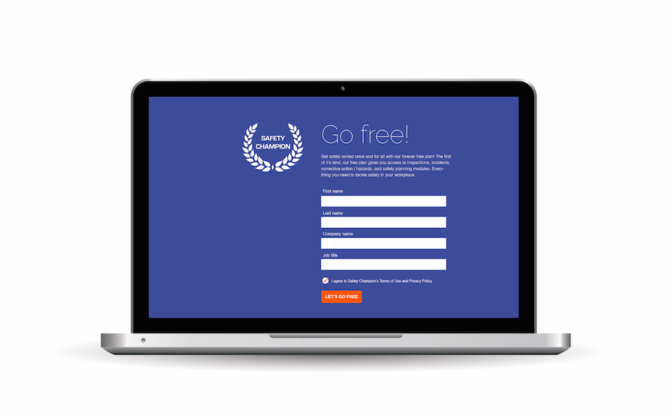 Launching the first 100% free safety software plan of its kind
*GO FREE plan is now known as Safety Champion Light.
Today, we are thrilled, excited, and maybe a little nervous too, to launch our big news. Safety Champion now has the first 100% free, comprehensive safety software product on the market.
Our GO FREE plan allows anyone, in any organisation, to access our platform to manage their health and safety management system free. We don't ask for credit cards and this is not a free trial period that will end in a month. It's free, forever.
A free safety solution to break through the barriers
In our line of work, we see many organisations – small and large – struggle getting the resources or finances together to manage safety well.
It's not that the people in these organisations don't want to keep the people in their team safe from harm. Quite the opposite.
It's just that health and safety has a perception of being complex and just 'too hard'. This often acts as a barrier that prevents organisations from better engagement with stronger safety practices. And we see this as a real shame.
So, with our free workplace safety software, any organisation wishing to boost their safety management practices can do so. Without concern over having the resources or the money to put behind it.
Choose to go free, to free yourself up some time
In fact, the system saves you time. No more messy spreadsheets. No more chasing people up to complete that incident form. No more paper-based filing. And no need for that catastrophe meeting you have when you realise safety has dropped off the radar completely!
Safety Champion's GO FREE plan frees you up to get to other important things in your business.
Through the system, you will be able to;
seamlessly manage the essential components of your safety program.

report incidents, report hazards, and complete inspections on your phone or computer.

plan out recurring tasks, set notification emails, and assign tasks to your team.
The first of its kind
Following on from other 'greats' in the SaaS (Software as a Service) industry – like Dropbox and MailChimp – we thought it was time to bring a free software product to the health and safety industry.
This free plan allows you access to more than one module – in fact many! – with more than one user. So you can manage all of the essential components of your full health and safety program in one system.
We think a free ohs software solution is just what the industry needs to get safety on the agenda in more workplaces, and improve uptake of strong safety practices.
Be a Safety Champion this National Safe Work Month
We are incredibly proud to have launched this product – especially in Safe Work Month – when "Be a Safety Champion" is the tagline. Imagine our surprise when we learned about that tagline whilst preparing to launch this offer!
Now, everyone has the means to be a safety champion in their workplace.
What's included then?
4 awesome modules – incident, action, inspections, planning!

2 unique user accounts

Access to our IOS and Android Apps

Templates to copy

Great guidance from our online tutorials