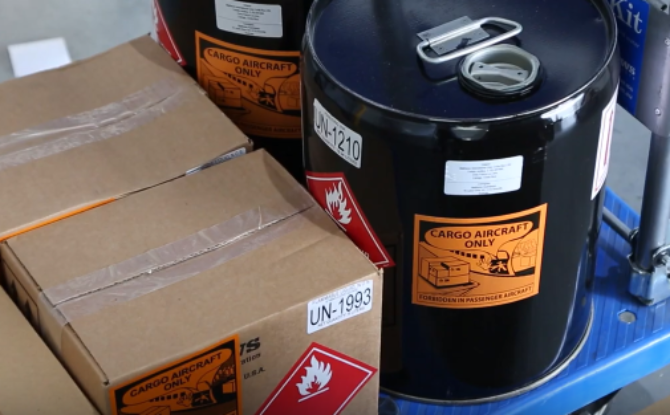 How to safely manage hazardous chemicals in your workplace
Bad luck or bad planning?
It's often easier to figure out what happened and why after a chemical incident has occurred. A couple of seemingly unrelated events combine to produce an explosion, a chemical spill and/or worse case an injury.
You think –
"If only the regular operator had not been sick that day"
"If only the waste oil drum had been emptied on Monday when it was scheduled"
"If only the new operator had used the correct Personal Protective Equipment (PPE)"
Then, this incident would not have happened.
But, can you fight bad luck with good planning? The simple answer is yes!
So, what does this look like?
I hear you say –
"I have a chemical register, current Safety Data Sheets (SDS), suitable PPE and have assigned a person to manage the chemicals at our workplace".
"I have also provided training to employees"
"So what more can I do?"

 
Yes, you have the right information, but have you applied it in an effective way?
Is your chemical management system active or redundant?
Assigning the administration of the chemical management system to an employee and knowing what chemical products you have is actually not quite enough. 
You also need visibility of the ingredients of those products. Along with the specific hazards associated with the use, handling, storage and transportation so that you can identify and assess the risks and how these can be effectively managed.
Too often, information on chemical hazards is known only to a few employees and SDS folders and registers are left sitting on a shelf, forgotten and gathering dust. Managing hazardous chemicals involves everyone in your business – No observers allowed!

Elaine McGuigan – OHS Consultant
So, you have a safety program in place but you must remember that this is not the same as making sure your employees understand and can adequately handle the risks associated with hazardous chemicals in your workplace.
Is it enough to make sure a few employees understand the risks of hazardous chemicals?
No, the risks must be understood and communicated to all employees in a way that they can understand. Train your employees thoroughly and tailor the training to their level of education, it may take extra time to present in this manner, but they will remember it.
What's some quick advice for consideration?
Information and awareness of the dangers of hazardous chemicals is the key to good planning. 
For example –
Have you undertaken a hazard analysis and taken the time to write down the risks associated with the use, handling, storage and transportation of your chemicals?
Have you taken into account your entire operation, the equipment you use, the workers who interact with these and how they all interact with each other?

 

Have you considered the worst incident that can happen and how likely is it to happen?
Go beyond listing the dangers of each individual chemical and look at the hazards and risks from a whole of business perspective. Consider your neighbours, the community, the environment, your emergency plan and how you manage the introduction of new chemicals into your workplace.
A good chemical management system makes it impossible to overlook the way these things are interrelated because it requires input from your entire operation.
Learn from your mistakes following an incident where no real harm has been done. Rather than ignoring it and getting on with the job, investigate the direct and indirect causes (i.e. the contributing factors) and implement corrective actions to prevent the same thing from happening again.
How does safety software allow you to manage chemicals better?
Resources to effectively manage safety programs – including hazardous chemical management – are often stretched to the maximum. This is where safety software such as Safety Champion can help. 
Safety Champion has a dedicated Chemical Management Module which can make a big difference. The Chemical Module can;
be used to track multiple hazardous chemicals, across multiple workplaces
provide employees with immediate access to up-to-date SDSs
be access from any desktop, tablet or smartphone – even through our safety app!
Yes, there is still work to do but in using a safety software to help manage your chemical management program it is active, and no longer redundant. It now belongs to the workplace and not an individual. Phew. It's no longer gathering dust on some forgotten shelf.