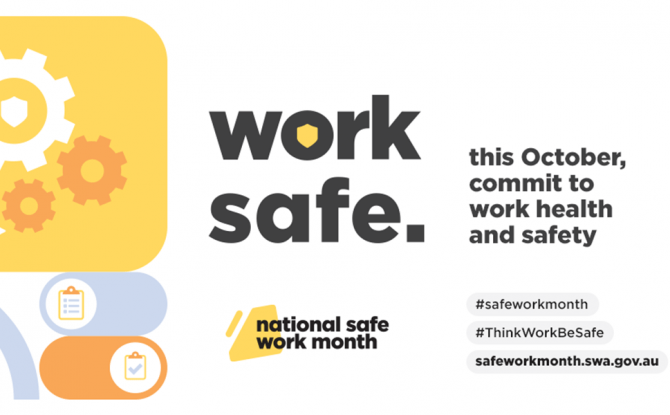 October is National Safe Work Month
5 Tips for a productive National Safe Work Month – October 21
October is National Safe Work Month – a time for Australian workplaces to showcase and promote work health and safety.
The theme for National Safe Work Month this year is think safe. work safe. be safe.
October is not only a perfect time to celebrate and promote the importance of health and safety in the workplace, it is a time to focus on identifying risks by actively listening to workers about their experiences, and implementing work health and safety procedures that benefit all.
5 areas to consider
Plan.
Get the most out of Safe Work Month and actively talk to your teams and schedule. Safe Work Australia has some fantastic resources to help build excitement and get people talking about National Safe Work Month. Download Safe Work Australia's National Safe Work Month Campaign Kit.


Listen (…then talk).
Identify ways that you can interact with key stakeholders. For workers, schedule a "Safety Month" event – morning teas and BBQ's are always a hit, alternatively schedule in some time during an existing team meeting. Authentically ask: "What opportunities are there for us to improve your safety, or the safety of our customers" – then listen (and take notes). Don't refute.
For clients, reach out via a survey [online or at reception]. Have them provide a 5-star rating for: "How would you score us for safety, given our past interactions"; followed by an opportunity for them to provide comment/s.


Do.
Given the energy generated from your planning, Safe Work Month provides a great time to schedule safety activities:
Review your Safety Manual (and documents). Does it reflect the work you do? Yes – *Tick*. No – You need to decide: (i) Do you update the document to reflect the work? Or (ii) Do you change the work to reflect the document? Or (iii) Can you take a little bit from column A and a little bit from column B.
Safety Walk-through Inspection – is signage, line marking, lighting, walkways, and equipment in good condition? When you look actively, you will see things that you miss when you look passively.
Gather a group and make a list of the "things" that could injure workers and/or customers. Once created – make a list the things you are doing to prevent the injuries. Is there more that you could, or should do?
Schedule any annual training or communications – for example, re-inductions to workers and/or contractors.


Upskill.
Safe Work Australia and your state regulator (one of: WorkSafe, SafeWork, WorkCover) will have a calendar of events during Safe Work Month. 'Look' and 'Book' now.


Look.
Search for ways that you can make safety a part of your business as usual. Use Safety Champion Software  to schedule inspections, report and monitor workplace health and safety risks.