Actually, we're a little different from the rest.
We offer a 100% free software plan – unique in the market. Access to 4 great modules through our free plan, then upgrade to a plan that suits your needs when you're ready.
---
Our Modules
Interested? Check out our pricing plans
---
Our Features
Our user-friendly interface and useful features make health and safety easy… and even a little bit of fun!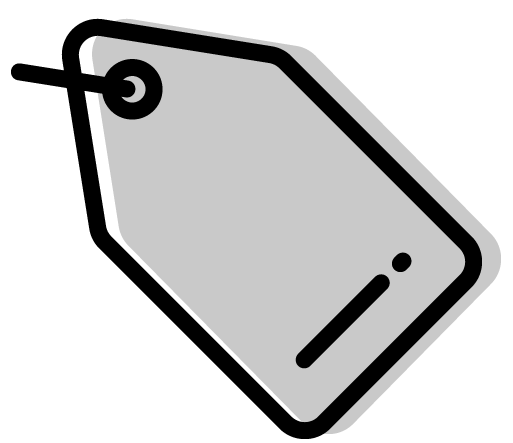 After pricing?
Click here to see our plans. Alternatively, for pricing the system to suit your specific needs, jot down your details and we'll get back to you shortly!
---
Planning & reporting
Guidance and planning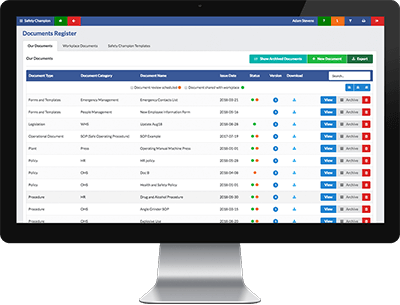 Safety Champion can come pre-loaded with a Health and Safety Manual. Our manual and forms address the requirements of the common health and safety standard (AS/NZS 4801:2001 & OHSAS 18001:2007).
If you need to meet health and safety contractor management system requirements, we have catered for a number of these as well!

Copy or Add your own documents, and your health and safety manual is setup! Minutes NOT weeks.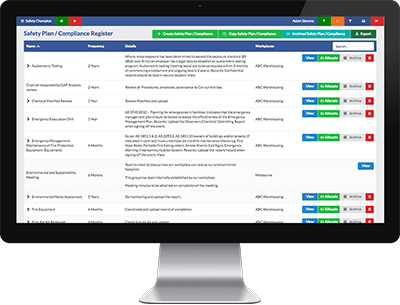 Our Safety Plan module will impress! This module allows you to select the preloaded tasks are relevant to your business, and then allocate the selected tasks to individual workplaces as necessary. This will ensure that implementation of your health and safety system is easy!
Do you have workplace specific tasks? No problem – it's easy for you to create and add these as well!
Copy or Create your tasks, then all you have to do is allocate to a workplace!
Implementation, reporting & visibility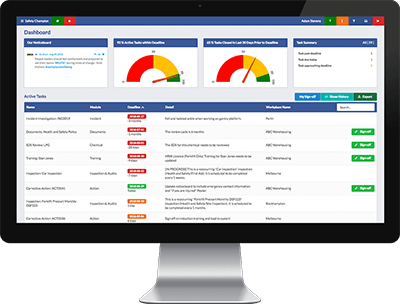 Think of Safety Champion's dashboard as your active "to-do" list. The dashboard details what needs to be done and reminds workers, contractors and stakeholders by sending emails as deadlines approach.
Once a task is signed-off, the next time this task is due it is automatically scheduled. It's that easy!

Easily access evidence of all completed tasks, whilst scheduling future tasks so they are visible and not missed!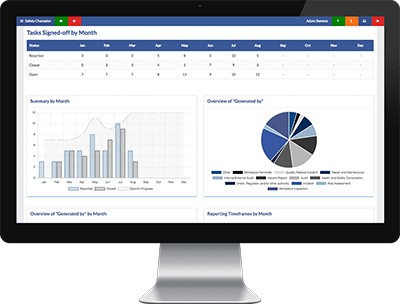 Is health and safety reporting taking too much time? Not sure what to report? Safety Champion makes that easy to handle. The pre-defined dashboard will provide you with an overview of how your whole health and safety system is performing whenever you need.
Excel reports can be exported from each module. Now you can report "live-data" when and how you want to!
Clear, familiar and easy to monitor.
Looking for a system that can support Human Resources, Quality or Environmental Management as well?
Well, you have found it! Safety Champion is not only a health and safety solution. Based on quality management principles, Safety Champion can be used to manage all recurrent tasks and system documentation within your business. Give us a call to learn more!
READ OUR BLOGS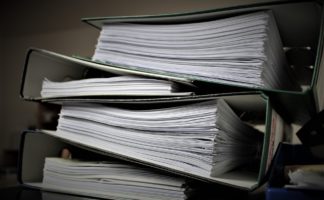 Why keeping safety documentation up-to-date and accessible is a must
There are a number of benefits to keeping strong workplace safety documentation in place as a business. Not only does […]
Read More

›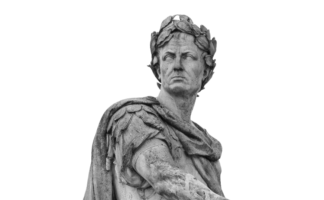 How to be a safety champion
The word champion can be one of the most powerful words in the modern era. (No wonder we named […]
Read More

›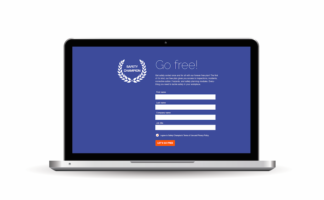 Launching the first 100% free safety software plan of its kind
Today, we are thrilled, excited, and maybe a little nervous too, to launch our big news. Safety Champion now has […]
Read More

›