Calculate Your Pricing
Like the pricing?
Next step, start a 14-day trial.
---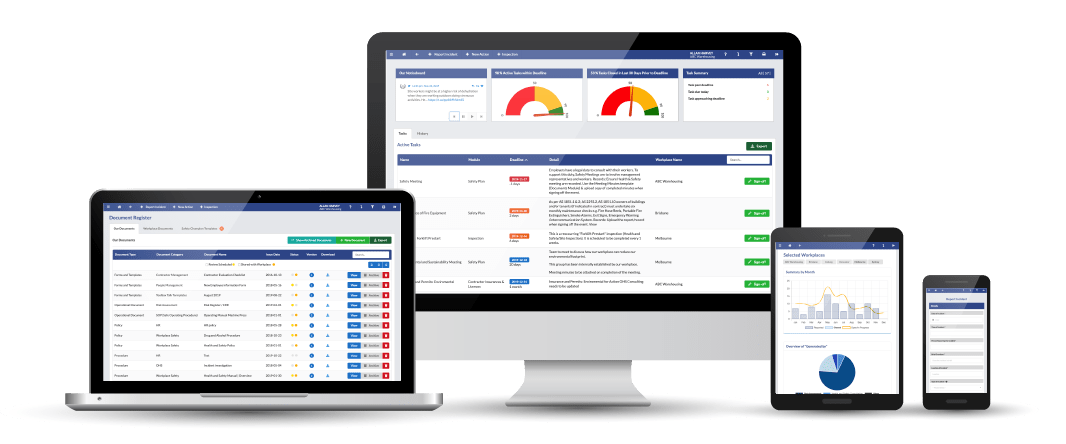 Have questions or would you like to speak to a consultant? 
Complete this form and one of our team members will get back to you within one business day.
FAQ
What is Safety Champion Light?
This is a 'light' or limited version of our comprehensive software product, meaning that it has limited features and modules available for you to use. For more information about what is included, click here.
Get access to your personal account within minutes from sign up and start using Safety Champion Light for free, forever. No catches.
How do I trial your full, comprehensive software product?
Our 14-day trial gives you access to Safety Champion Premium – our comprehensive OHS / WHS management software product. For two weeks, you can experience our fantastic modules and get a feel for how the system works.
For simplicity, the 14-day trial does not provide access to configuration, user creation or workflow management. Of course, we can run you through these elements in a demonstration of the product so you can see all of the configuration and higher level management features available to you.
Do I need to provide my credit card for a 14-day trial?
No – we won't request your credit card details for a 14-day trial, nor for our Safety Champion Light product. We'll only ask for your payment details if you take up our Safety Champion Premium product which is a paid subscription. At this stage, our accounts team will determine the payment terms that work best for you.
Do you offer discounts for Not-for-Profits (NFP)?
Yes! We offer a 20% discount on our software licensing fees to all NFPs. We do this so that NFPs can redirect the savings into the running of their programs and operations.
In Australia, we use the national regulator of charities – the Australian Charities and Not-for-profits Commission – to determine your not-for-profit status and, therefore, eligibility for this discount. We use similar methods to determine your status in other countries.
Are there any setup fees?
For Safety Champion Light, there are absolutely no set up fees. We provide a suite of video tutorials and guidance documents in our Resource Centre, which guide you through set up and best use of the system.
For Safety Champion Premium, we offer training and support packages to guide you through implementation. Depending on your needs, our support packages include guidance from our health and safety consultants to ensure that the system works in accordance with your safety program and safety needs.
We can assist you as much or as little as you require – reach out to us to discuss your options.
Do I have to pay more for Support?
No – Support is included as part of your license fee.
How are pricing adjustments managed?
We are up-front about pricing adjustments. When we issue these, we advise our customers in advance. Our annual 5% license adjustment is important as it allows you to access new Safety Champion modules and features as they evolve. This is part of our commitment to support you with a fantastic, continuously improved, safety management software product and also meet our mission to make safety management easier and more accessible than ever.
Do you have mobile apps?
Yes – we have native Android and iOS apps to support use of our product on-the-go. These apps offer users offline functionality which allows you to report incidents and hazard, do inspections, or view documents when there is no internet or Wi-Fi connection.
This is great for businesses in which internet connection may be shaky, or if your people are often working in remote locations. The apps let you report when you need to. Then, when you come back online, the system will automatically retrieve those reports and load them into the system.
Can I cancel my subscription at any time?
The minimum contract length available is 12 months (unless authorised by our Sales Team Lead). After this time, you may cancel your subscription at any time, unless under a renewed contract that stipulates a specified time-period.
Do you offer discounts?
Yes – if you choose to make your payment to us annually in advance, this will unlock a discount of one month for the 12-month period. We also offer a discount to not-for-profits as well (see above).
I am not sure whether Light or Premium is suitable for my business. What should I do?
Please provide us with your contact details via this form and one of our Customer Experience Team Members will be happy to explain the details of these options. Alternatively, call us now on +61 1300 1 CHAMP or email us at hello@safetychampion.com.au
What is the response time after I submit an enquiry on your site?
We aim to get back to anyone who reaches out to us within 2 business day. We're looking forward to speaking with you!
Where are you based?
We are based in Australia and are 100% Australian-owned. Our Customer Support Team work from our Head Office in Melbourne, Victoria. We also have a satellite office in Parramatta, NSW.
Where are your customers based?
As an Australian-based business that was developed and released originally in Australia, a large portion of our customers are situated in Australia and New Zealand. That said, as our customer base expands to approaching 1,000 customers, we now support customers on every continent – apart from Antarctica. If you are a business based on Antarctica or know one that is, we would love to chat so that we can sort this "missing piece" out!