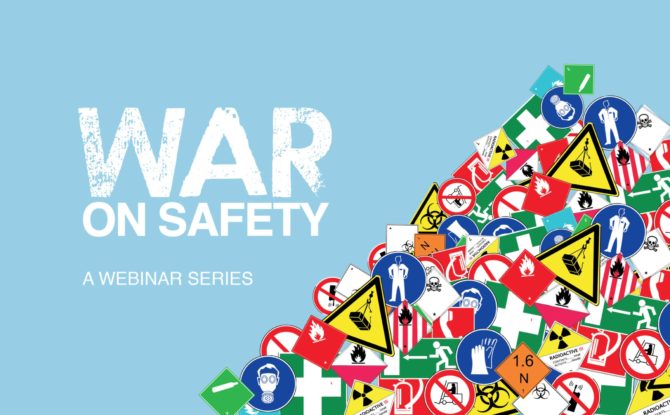 We're declaring war on safety… wait, what?
That's right. We're declaring war. On 'safety'. But it's not what you think. This is the title of our upcoming webinar series designed to fight through the perceived complexity of health and safety. We were inspired by the ABC's War on Waste program… and threw a little spin on our own title. Yes, we want to catch your attention. Because safety is important.
These webinars will deliver simple health and safety advice to any business out there that has a thirst for it or needs it. We want to break down health and safety into what you need to know, not what the 'Safety Industry' tells you you!
Sound good? Get access to all episodes here!
So, yes, declaring War on Safety is a dramatic title (*cheeky of us). But we have our reasons.
Actually the title The War on Safety really represents the frustrations and confusion that we see of many Australian businesses have when probed about their safety program. It is clear that many businesses don't know where to start and need some assistance crawling before they start to walk.
An overview the webinar program can be found below.
The program has been designed by the very experienced health and safety consultants at our sister-organisation, Action OHS Consulting. So you can be confident that you will be getting practical advice from innovative and forward-thinking health and safety professionals.
Across a four-part series, from August to November, The War on Safety will break all that safety jargon down into bite-sized, 30-minute webinars that give practical advice to business owners and people managers that want to learn more.
This way we can play our part in helping businesses keep their people healthier and safer.
Since this webinar series is now over – we're providing access to the recordings to anyone who is keen. Click here.
Webinar Schedule
All webinars will commence at 11am AEST
8 August 2018
"Planning for casualties"

How to develop a safety program

Registrations closed
12 September 2018
"Can I burn them up?"

Understanding the safety documents you need

Registrations closed
10 October 2018
"Who are my allies?"

Where to find free, useful resources

Registrations closed
14 November 2018
"Now let's get that army moving"

How to make safety business as usual

Registrations closed