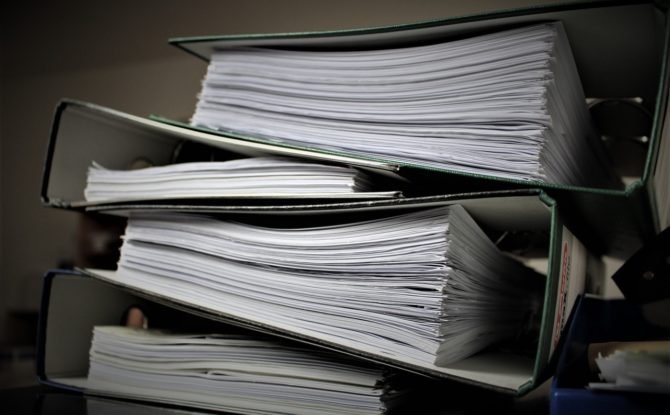 Why keeping safety documentation up-to-date and accessible is a must
There are a number of benefits to keeping strong workplace safety documentation in place as a business. Not only does safety documentation ensure that you can demonstrate compliance with health and safety legislation, it can also save you and your team a great deal of time and frustration.
A key challenge facing business owners and managers
There is one main problem facing many organisations when it comes to safety documentation. It is challenging for businesses to keep track of documents as the business grows and evolves, or as staff change over time.
Documentation might be stored in different locations at different points in time. A variety of hard and soft copies of documentation might be in circulation at any one given time, current or older version. Regular reviews and updates of documents might fall off the radar. And communication of updated versions might fail to flow downstream to the staff that need the information the most.
All of this means that when it comes time to access or review such documentation, the business spends more time trying to figure out the state of things, and less actually working on improvements to documentation and systems for the sake of everyone's health and safety! And no one wants that.
Should a serious incident or injury occur, you will be required to provide evidence to a safety regulator that you have effective health and safety workplace systems in place. At this point, your ability to supply documentation becomes very important. It can show that you comply with relevant safety legislation, and that you are actively doing what you can to make things safer for your people.
Needless to say, copies of documents, stored in a folder, in head office, on that dusty shelf, that no one ever really uses anymore, isn't doing anyone any favours. This is especially true if you are working across multiple sites. If you have documentation, you need to make sure its current, accessible, and digestible.
Make documentation easy to access for your workers
So, we know that simply having documentation is not enough. People must first know it exists and be able to use it!
Regardless of the type and extent of health and safety documentation that you have available in your workplace, keeping it readily accessible to your workers is of paramount importance. If your workforce or any other interested party can't access the documentation, no one wins.
On the other hand, if people can, and do, access relevant and current safety documentation this supports your legislative compliance. Additionally, easy access to documentation for workers, supervisors and managers will improve workplace efficiency.
When you roll out standardised and consistent training on the relevant workplace safety procedures, your ability to streamline and tighten your operations and output improves. So not only should you think about making the documentation accessible, but also think about how you communicate it. Training sessions, team meetings, or a quick stand up meeting at the beginning of every month.
A best practice approach to WHS documentation management
Consistent with Australian and International Standards, best practice for managing safety documentation is with version control and periodic reviews. Documentation should be established with a revision period in mind (e.g. two or three times yearly) and should be marked with dates or version numbers for tracking purposes and ease of administration.
It's important to remember that whilst periodic reviews should occur on a regular basis appropriate to your needs, they should also occur when major changes occur in your organisation. Such changes might be new business operations, unexpected periods of growth, shifts in staffing or job functions, or changes in management.
During such periods of change, safety considerations are commonly forgotten. But when big changes occur in your business, it is more than likely there will be flow on effects to your safety management system.
It's at times like these that workplace health and safety should always be on the agenda. Current systems, processes, and documentation must be reviewed to ensure that safety stays on track and in accordance with your goals and legislative duties.
Finally, it is a good practice to ensure that safety documentation is stored in a safe and secure manner to prevent modification without organisational-level visibility. This speaks to the legislative duty that any business owner or person in charge must be aware of safety practices in their organisation.
Secure online storage for easy access and history of evidence
A secure, easy-to-use solution for better safety documentation management is utilising the Documents Module in Safety Champion Software. This module enables any organisation to easily upload, review and update their safety documentation. Plus it makes documentation super easy to access.
You can set up a revision period and keep version control, under control by saving new versions of documentation and archiving old versions. Email reminders will let you know when your documents are up for review. This is incredibly useful when it comes to health and safety legislative compliance.
Furthermore, this module allows different documentation types to be shared with specific groups in your organisation, or with everyone. You can ensure that safety documents are shared with users based on their level of seniority in the business, their job role or their function.
Plus, being a cloud-based software, your team can access these important documents from any location or work site, via any electronic device including a laptop, tablet or smart phone device. This means that when your team needs the information, they can get it. No need to slow down productivity, and no need to wait for HR to get back to their desk.
But possibly one of the best features of Safety Champion – and one you won't find in alternative software products on the market – is the fact that Safety Champion assigns safety tasks to a team or a group in your organisation and not to a person. This means, that if the person responsible for a safety tasks moves to another role or leaves the business, your safety tasks keep ticking along.
The system architecture keeps everything in place for you so that you never need to worry about safety tasks – like reviewing documentation – being forgotten again.
Get the OHS information you need any time, anywhere.
Total peace of mind with Safety Champion
Safety Champion's Documents Module allows any business owner, people manager, team leader or human resources representative the peace of mind they are after.
Imagine being able to update that document, load it into the system, and feel confident knowing that your team, wherever they are – a suburb away on site, interstate, or even in another country – have most up-to-date and accurate safety information possible.
Safety Champion really is the easy and efficient way to manage safety documentation.
If you are keen to learn more, reach out to us and one of our customer experience team members will be in touch soon.