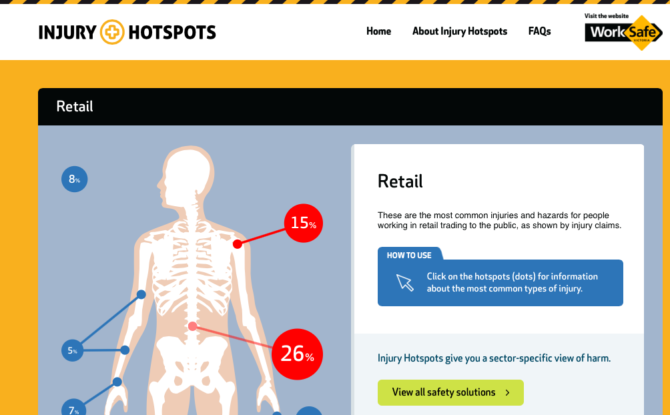 How you can identify the common injury hotspots in your industry?
One of the most difficult parts of business is managing your legal OHS and WHS obligations. Your business has responsibilities to both know and manage the 'common' health and safety hazards that are specific to your industry. But this means that you need to be proactive in identifying foreseeable hazards. It is only when you identify what could go wrong that you can actually prevent nasty things from occurring by planning and implementing strategies to avoid them.
For example, in the retail sector repetitive work, excessive carrying and lifting, or awkward postures are common causes of back and shoulder injuries. But, businesses must first know that poor manual handling practices like these commonly lead to injury, before they can develop strategies to manage the risk. So how do you know what is 'foreseeable' when you are not exactly an occupational health and safety expert?
"I'm no OHS expert, how do I know what the 'common' OHS hazards are in my industry?"
Well, we are glad you asked! WorkSafe Victoria has this fantastic, freely available online tool that will tell you exactly which health and safety risks you should look out for in your workplace. They have even provided some great practical solutions for mitigating these risks. And some of these are so easy you can start implementing them today.
It's called Injury Hotspots. Just type in your industry and then click on the body parts to read about common hazards and the practical solutions that you can adopt to avoid these hazards from occurring. The site also gives you links to all the official health and safety legislation documentation that you might need to learn more.
Now we think this is an incredibly useful tool for any business owner or team manager who is responsible for protecting the health and safety of their workers. So, why not jump online today and explore more about what you should be looking out for?
After you've learned a little more about the hazards in your industry, now you are ready to implement strategies to mitigate the risks. Read more about how to develop and achieve your health and safety targets and objectives. In addition, contact us to learn more about how our software can help your business keep managing OHS in your business nice and simple.