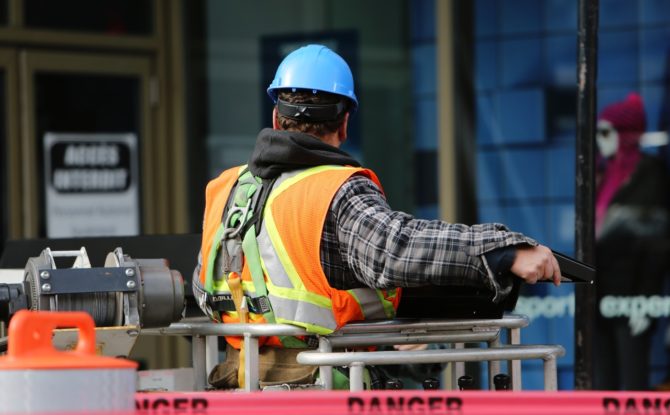 Everything you need to know about Personal Protective Equipment
As an employer you are responsible for establishing control measures to best ensure your workers are not injured when at work. One method commonly used to manage your workers exposure to hazards in the workplace is by providing Personal Protective Equipment (PPE). Whilst it's common for businesses to provide PPE to workers and contractors, many are not exactly sure of the circumstances or rules that surround this. So, let us give you a quick overview.
What is PPE?
PPE is anything used or worn by a person to minimise risks to that person's health or safety. It includes a wide range of clothing and safety equipment such as boots, facemasks, hard hats, earplugs, respirators, gloves, safety harnesses, high visibility clothing and more.
When should PPE be used?
PPE should be used when an uncontrolled hazard has been identified in the workplace. Some common hazards that PPE is often used to help manage include:
Noise = earplugs or earmuffs
Dust = respirators
Contact with skin and/or body = gloves, clothes, apron, glasses, safety boots
UV Radiation = clothes, hat, glasses, sunscreen. Read more about this here.
How does PPE work?
PPE creates a barrier between the worker and that hazard. However you should remember that on most occasions PPE will not stop full exposure to the hazard. It will only reduce the workers exposure to that hazard.
For this reason it's important to note that PPE should not be used as the only measure you use to manage hazards. Generally PPE should be used to supplement higher level control measures – think of it as a back-up, or, as an interim measure until a more effective way of controlling the hazard can be used.
Do I have to provide it?
In short, if workers are required to wear PPE to undertake their job, the employer must provide PPE to workers.
So, how do you know if PPE is required?
Generally, PPE is either standard across your industry (for example wearing high visibility clothing when working around traffic), or, has been identified as the outcome from a risk assessment that your workplace has completed.
Can I charge my employees for it?
If PPE has been identified as a requirement by the workplace, it's actually an offence for an employer to charge or levy a worker for it. This includes footwear if it has been identified as a requirement of the role. Workplace relations' laws also prohibit deductions from employee's wages for PPE. With respect to some PPE and footwear, often some workplaces will have a 'standard' PPE offering. Workers may seek reimbursement outside of this offering, if they choose, so long as their PPE meets the required standard.
How do I choose the correct PPE?
When choosing PPE, you should consult with the users of the PPE – your workers – to ensure that the it does not create additional hazards, and to ensure that it will not impede the worker to undertake their job. Something that is often forgotten is considering how the PPE will be used in practice – simple, yet often missed! Once the PPE has been identified at your workplace, your next step should be to ensure that it meets the appropriate Australian Standards.
Is there anything else I should be aware of?
There are a couple of key things:
Firstly, if you provide PPE in your workplace, there is an expectation within the legislation that you will train your workers on the correct use, fit and maintenance of the PPE. Whilst there is a legislative requirement to do this, there is no legislative requirement to document this. However, should there be an injury in the future – consider whom the investigator will believe? The worker who advises that they have not been trained – whether this is true or not. Or the workplace that advises that the worker has been trained but has no documented records to prove it.
Secondly, the PPE you chose may have an expiry date – for example hardhats. This means that you will need to identify a process to monitor and manage this.
Finally, issuing PPE may mean that your workplace has additional legislated duties, such as completing audiometric (in other words hearing-related) tests. These tests, as an example, must be typically completed within specific timeframes. So bear this in mind.
We know that even something as simple as using the right equipment and gear in the workplace can add to your 'to do' list and escalate into a small headache. But with our Safety Champion Software, features like automatic reminders about PPE replacement deadlines, or quick PPE overview Toolbox Talks all come as part of the package. So, to make things a little easier on yourself, why not take a product tour today?