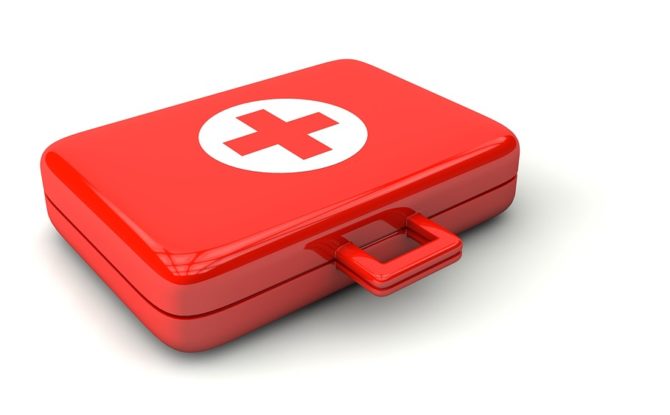 Four ways to provide better support to your First Aid Officers
Most small and medium sized businesses these days have cottoned on to some great OHS/WHS practices, realising the huge importance of keeping their employees healthy and safe. It's normal in workplace tearooms and common areas to see OHS posters up on the walls, clearly marked and fully stocked first aid kits, and appointed fire wardens and first aid officers.
At Safety Champion, we think this is an awesome step forward! We're even starting to see businesses of only a few staff undertaking health and safety activities throughout the year. One of these being ensuring they have a trained First Aid Officer on site.
It's important to remember that businesses should not only appoint First Aid Officer but also ensure they are trained and regularly skilled up in case one of those unfortunate incidents does occur. Typically, First Aid Officers rarely use their 'skills'. However, if something nasty happens in the workplace, it is important that they are confident and ready to respond.
Typically, First Aid Officers rarely use their 'skills'. However if something nasty occurs in the workplace, it is important that they are confident and ready to respond.
So, here are some easy, low-investment ideas that SMEs can easily adopt to support the people who put up their hand to be the workplace First Aid Officer;
Hold a quarterly or 6-monthly meeting with your first aid officers to review the incident register and discuss how to manage any foreseeable scenarios. Consider having individual First Aid Officers review these scenarios – let's say 2 or 3 scenarios each time you meet.
Email some useful 'how-to' blogs and other related OHS/WHS articles to First Aid Officers to remind them of their training and to help them maintain confidence in their first aid skills. Like ours, for example!
Print and display first aid safety posters. This will assist non-First Aid Officers build their interest and understanding of your first aid program. Our friends at Alsco have over 40 freely downloadable and print-ready posters for you to choose from; such as first aid signs, first aid visual guide posters; and first aid posters.
Provide your First Aid Officers with access to the Safety Data Sheets (SDS) for all hazardous chemicals that are available for use in your workplace. Consider collating the first aid information – and ensure that all first aid requirements are available. Again, you may look to review 2 or 3 chemicals each time you meet.
Only have one First Aid Officer? Not a problem! Add 'first aid' as an agenda item to your existing operational or 'business as usual' meetings – this can been routinely, it does not have to be at every one of these meetings. The key is to make sure your First Aid Officer(s) remain trained with current practices. Oh and don't forget to keep that first aid kit stocked and ready.
We know that managing health and safety in the workplace can seem hard and complicated. Watch this video to see how Safety Champion Software can help simplify the whole thing for you. 
For more detail about first aid take a look at the Code of Practices for Victoria and all other states. And here are some more docs about managing the working environment: