But by using our warehousing safety management software, you can create maintenance schedules and record all aspects of the plant item in one record. Our online warehousing safety management software is perfect for compliance and providing a safe workplace.
The range of activities in the warehousing industry in Australia is diverse and comes with a higher risk of injuries and fatalities than most other workplaces. This is why online warehousing safety software is crucial to lessen the chances of workplace accidents and for Occupational Workplace Safety (OHS) and Workplace Health and Safety (WHS) compliance.
Safety Champion warehousing safety management software is leading the field in this area of technology to help automate and streamline warehousing safety processes, so check ours out today.
Best Practice For a Warehousing Company
Warehousing management requires skill, compliance and best practice in OHS and WHS to avoid accidents and incidents. Workers and contractors use heavy machineries such as forklifts and other equipment, so they need a solid understanding of the risks.
Warehouses are busy workplaces where workflow needs to be smooth, objects are moved and stored quickly, often high up, and loaded on storage racks that may or may not be stable or safe.
There are moving vehicles involved in shipment transport, and there can be a range of potentially hazardous substances that can spill and cause injury. All OHS and WHS principles must be adhered to, machinery must be maintained, and invoices and other records must be kept, including employee training.
Accidents happen in warehousing, but with Safety Champion online warehousing safety software, the risks of injury or fatal accidents can be better managed and prevented.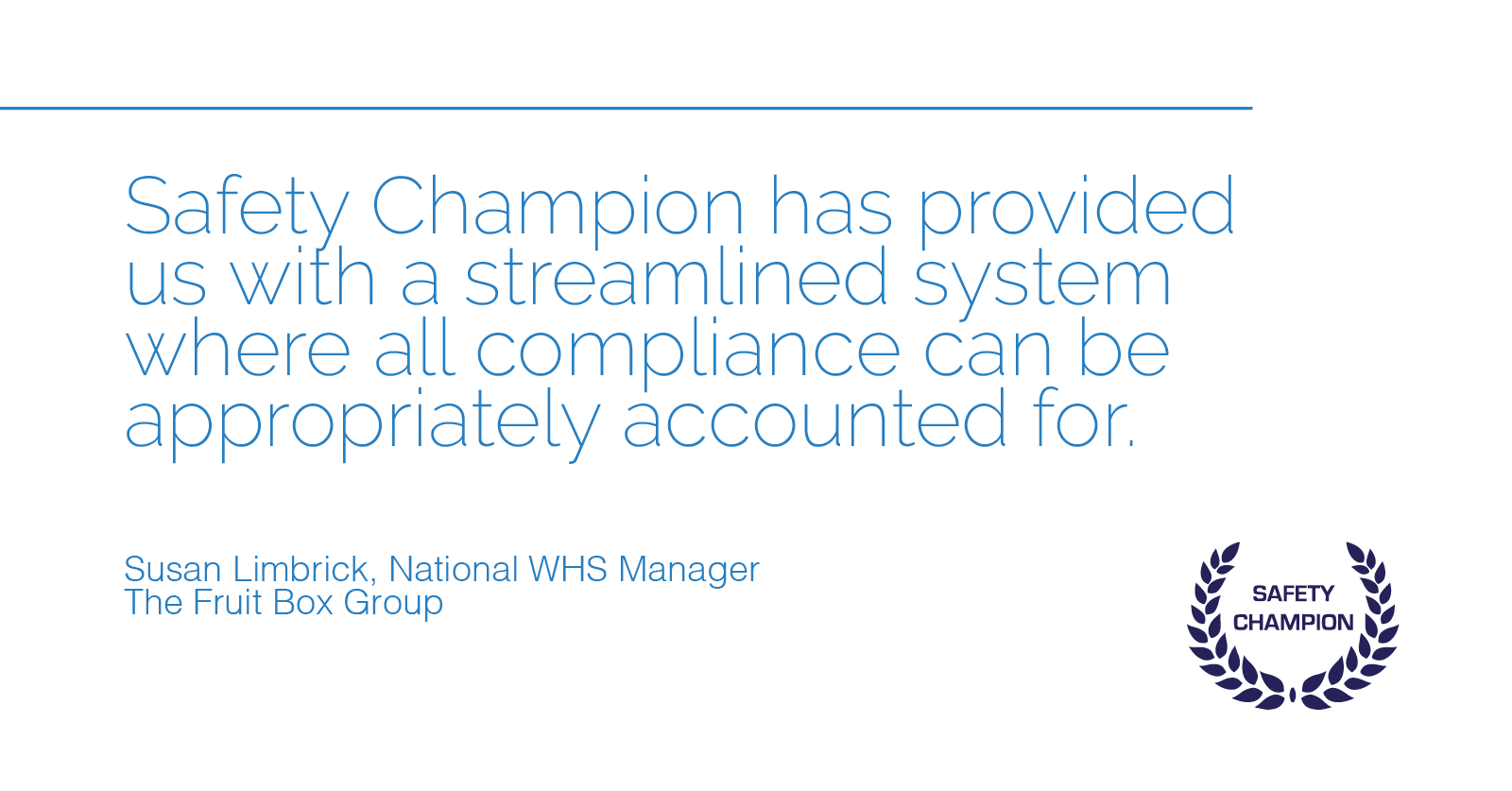 Online Warehousing Safety Software is Vital
Most warehousing managers and workers are aware of how vital it is to have a safe workplace for employees and customers, and they make OHS and WHS a priority.
While efficiency and speed are also critical, competent managers know that they go hand in hand with safety. They know that safety is essential to effective, smooth operations. But when a warehouse (or any) worker is killed or injured, the sad part is that these incidents could likely have been prevented using online warehousing safety management software systems.
Why Choose Safety Champion?
Safety Champion software for warehousing is easy to use and that's something we value. Having a warehousing safety software product that is simple, user friendly and functional was the reason we built this and all our other products in the first place, to lessen the frustration of OHS and WHS programs.
Our UX/UI designers used heaps of their time and energy focusing on making our online system much simpler to use than most other safety software brands on the market today.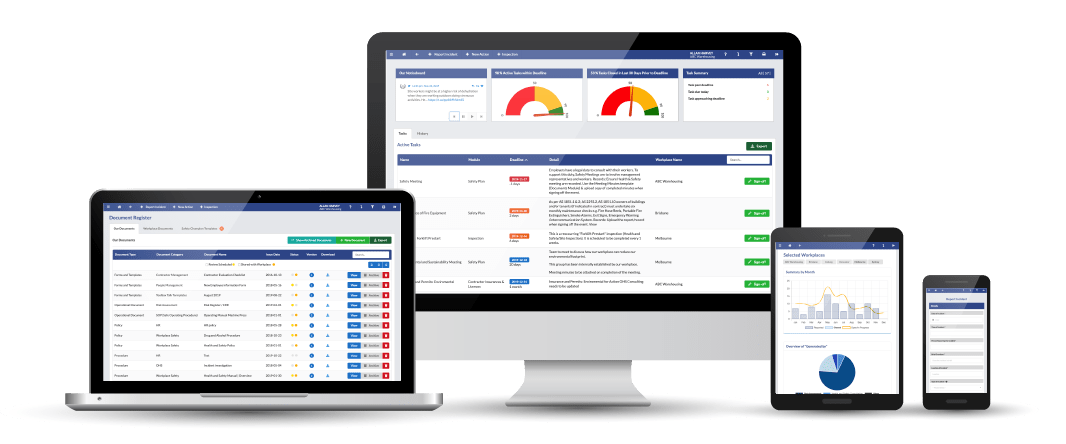 How Safety Champion Online Warehousing Software Can Help
Warehousing encompasses multiple sectors including exporting and importing, manufacturing, retail and wholesale, transportation and several other business needs. At Safety Champion, our warehousing safety software covers every aspect of your warehousing operation, no matter which sector you are involved in, from OHS and WHS on the warehouse floor to documenting everything in the office.
And it's all set to go with a full range of integrated modules, and iOS and Android apps to assign actions, review dates, track records and incidents online  – and much more.
These apps and modules include warehousing software features for managing the following:
Chemical

Contractor

Communication and Induction

Data Analytics

Document

Hazard & Corrective Action

Human Resources

Incident

Insurance

Inspection & Audit

Mental Health

Noticeboard

Planning & Compliance

Reporting

Risk Management

Site Attendance


Training
No Matter Where You Are, Safety Champion Has Your Back
Access Safety Champion online warehouse software for risk assessments, workplace health and maintenance dates anywhere, any time with our responsive design and our iOS and Android Apps.
Our team of professionals worked hard to provide software that was developed specifically as a health and safety online program and we did it with a dedication to best practices for all workplaces, businesses and companies with high-risk activities.
Safety Champion Software Works on All Devices
Safety Champion has been developed as an online system for many different companies to keep people safe, and it works on all devices, which means managing WHS and OHS in your warehouse is no longer bound to the confines of a computer or even where you're working. Whether you have one employee or many employees, they can all take part in keeping everyone safe.
Whichever device you use to log in online, Safety Champion will recognise and reconfigure it to that device, whether it's your desktop, tablet or smartphone. And you can access our mobile app while you're away from your warehouse.
Safety Champion is an Australian company that's continually evolving. If you want to know more about our recent releases or what's in the pipeline, you can contact us to find out more or jump into a 14-day trial to try it for yourself.
---

After pricing? 
Jot down your details and we'll get back to you shortly!