Sales & Customer Success Consultant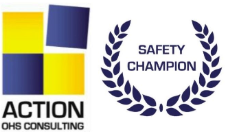 Our single vision is that "We want to see a world in which no one is hurt at work, ever". It can't be clearer than that.
We live for our values in all that we do
#customeralert #bettertogether #gotforgold #loveboldideas #valuelifework #startupmindset
Bring your OHS experience & your passion for tech-based solutions to this exciting role offering a great base salary and commission.
Are you looking for a career change but still want to use your safety experience?
Are you passionate about implementing technology-based safety solutions?
Join our values-based company. Melbourne team. Flexible working arrangements.
About Us
We are a rapidly growing tech business that provides an intuitive SaaS-based product to our customers to help them manage their health and safety obligations with ease. We currently support a host of Australian and international businesses across the retail, logistics, trades, manufacturing, and food and beverage industries.
We believe that embedding strong and sustainable safety practices does not need to be hard … in fact, it can be easy! This is the driving principle behind Safety Champion and our mission is to make safety easier and more accessible to all people.  Along with our sister company, Action OHS Consulting (www.actionohs.com.au), we seek to make a valuable contribution to the management of workplace health and safety in Australia.
At Safety Champion we are committed to actively fostering a diverse, open, and inclusive workplace. We are a B Corp certified (companies verified by B Lab to meet high standards of social and environmental performance, transparency, and accountability).
About the Role
Due to an exciting period of growth in our business, we have created a new position – Sales & Customer Success Consultant, to join our Melbourne team.   Working in a small and dynamic team, you will be actively involved in helping our customers identify our software as a solution for their workplace health and safety management and once converted as a client, will facilitate the configuration and onboarding of our platform into the organisation.  Having a professional and energetic approach to your work, you will use your safety knowledge and experience to guide our clients through our product and its life cycle.
With your proactive attitude, easy going communication style, attention to detail and your willingness to learn B2B (business-to-business) sales processes, you will generate sale opportunities and contribute to business development strategies and activities.  Anticipating our customers' needs you will skilfully conduct software demonstrations with our potential clients and have the ability to guide and support clients through all steps of the onboarding, system building and training phases.
To support you to be successful you will be mentored and coached by an experienced Sales and Customer Success teams, whilst working closely with our people in Marketing and the Partner Program, as well as qualified Workplace Health and Safety professionals.
To be considered for this role, you must have:
Previous experience in a work health and safety role and/or OHS/WHS qualifications.
Excellent communication skills and the ability to communicate effectively with a broad range of potential and current clients.
A desire to be involved in the full customer journey from initial enquiry.
Demonstrated experience in working autonomously and achieving set targets and objectives.
Experience using OHS software management systems.
Experience in database management.
Applicants with the following will be highly regarded:
Experience in software sales and/or health and safety related products and services.
Experience using CRM software.
How did we do?
Submit an application to Megan Drysdale, Head of People (people@safetychampion.com.au), with a resume and cover letter detailing how you meet the requirements for the role and your motivation to work with Safety Champion.
Recruitment for this role will commence immediately!
As a values-driven, equal opportunity employer, Safety Champion encourages applications from people from culturally diverse backgrounds, linguistically diverse people, Aboriginal and/or Torres Strait Islander peoples, members of the LGBTIQA+ communities and people with disabilities. Applications will only be accepted from candidates who have the appropriate approval to work in Australia.