Don't pay for more than you need. Choose our entry level GO FREE plan for basic functionality without the hefty price tag. Or choose one of our paid plans for more features and modules. Take a 14-day trial to experience the full Safety Champion platform – no credit card required!
Unlimited
Unlimited
Full Access
Unlimited
Unlimited
Full Access
All prices excluding GST and shown in AUD | * User numbers cannot exceed worker numbers
Choose our yearly plan and get one-month free
---
Effective Safety Management System ☺The introduction of the system into our operations provided a user friendly platform which in itself is a major win for our organisation. Encouraging all staff to actively participate in enhancing the safety performance of the organisation. ☹Although very satisfied with the modules within the system that we are currently utilising, I believe the platform would be enhanced by linking the Chemical module directly to a SDS database such as Chemwatch or similar.
Excellent product ☺When we investigated the options for an online safety system for our people, we specifically looked for power at the management level and ease of use for the frontline to encourage uptake. This has been achieved and more with Safety Champion. It also helps that it is at a reasonable price point and local customer backup is all in place. ☹There are features that are yet to be offered, but we can definitely see the improvements coming through at a good pace.
Safety Champion ☺We really like the visibility you get with Safety Champion it helps with focusing on our safety and ease of setting up regular checks , it also has some standard templates that can be used The mobile phone app is great ☹The reporting is very basic and user friendly
How to become champion in safety using Safety Champion software I use the trial version and it helps me a lot to follow our incidents / accidents and the following action plans and to report the EHS results to the board of directors ☺Easy to use Reporting tool (graphical views) ☹One option is missing in "Type of Incident": hazard / dangerous situation
Brilliant OH&S Software ☺Easy to use. Very friendly customer support who help when I don't understand how features work. ☹Hard to say. I really enjoy using the software.
Great software - happy with it for sure ☺It was the only product we found that gave us the full package we were after, at a price that we were comfortable with. Love it. ☹Can't really think of anything. It's all pretty good.
Easy reminder system I am a sole practitioner dietetics consultant. Safety Champion has provided me with a simple way of generating reminders for repeat tasks + it has allowed me to maintain patient records in a format that is simple and secure, which allows me to access the records anywhere and at anytime. ☺Allows me to access records on my phone anywhere and anytime I need. ☹None at this stage.
Highly functional with a great user experience. We are a boutique multi-disciplinary creative studio, specialising in the design of furniture, wayfinding and customer experience strategies. As a growing consultancy, software functionality was our initial consideration as we were looking to establish efficiency in how we work. This said, a lot of the software options we looked at provided the functionality that we needed. The primary reason we selected Safety Champion, was because of the clean and easy to use dashboard - it made training our staff simple. Importantly for us, Safety Champion's User Interface is more modern and also looked nicer, when compared to many of the other compliance and reminder solutions we looked at. A couple of months in and we have had no problems at all.
A class above other Safety and Compliance Solutions As a safety consultancy, I wanted to establish a best-practice solution to support and drive our internal health and safety program. In our role as a consultancy, we have had exposure to a number of safety systems. Most often, the safety systems we have been exposed to required a stakeholder to manage the implementation of the software solution, and/or spend significant time using the solution to understand where things are and how the software works. Safety Champion, is different - it has been developed with the observations we made in mind. It is easy to set up and allows all of our consultants with ready access to our safety program. Since we implemented Safety Champion, both incident and hazard reporting has increased. Workers advise that it is due to them being able to enter this information directly into the app, without having to look for "the form" that they previously used and then "sending the form on". Safety Champion is worth a close look if you are looking for a solution that is simple to use. I have enjoyed the transition across to Safety Champion from paper, as it has been a very visible way for Action OHS Consulting to demonstrate to our workers, sub-contractors and suppliers that we have adopted a best practice approach with our safety management. If these people are confident that we are serious about safety, then our workplace will be a safer environment for our workers, or those involved with our workplace. ☺I love how simple Safety Champion is to use. The direction we need is located on the dashboard. As a manager, I have visibility of our overall performance and importantly now have confidence in the reports that we run. Previously, we would save data in Excel, our registers were often riddled with errors from either data entry or people not saving/adding data as required. Significant time was wasted in cross-checking data. ☹There are no negatives from our experience so far.
Simple to use software, that allows our workers access OHS documents when working at client sites. We were looking for a web solution that would allow our tradesmen and women to access safety documents such as SWMSs and Operating Procedures when working at client sites. In addition, we wanted a system to ensure that there was a simple way workers could report incidents and hazards, to allow these to be tracked by management. When looking at web software, Safety Champion had the modules that we required and was identified by our team as the simplest solution to navigate. ☺It's simplicity. We are able to upload documents and these documents are controlled. When looking for a solution, we did not consider how obsolete documents would be managed. Safety Champion saves all historical versions when a document is superseded, however it also allows us to archive documents that are no longer used within our workplace. ☹Maybe not a "con", however, there have been some difficulties with workers remembering their password. Computer literacy is high at our workplace so we are currently looking at ways to support this!
---
Every One of Our Plans Include
SSL and At Rest Encryption
Offline Sync
Access to our iOS and Android apps
Mobile Access
Reporting and Analytics
Ticketed Support
Email Notifications
Multi-level access and permissions
Templates to copy
Want to experience all features and modules?
Start your free 14-day trial of the full version today.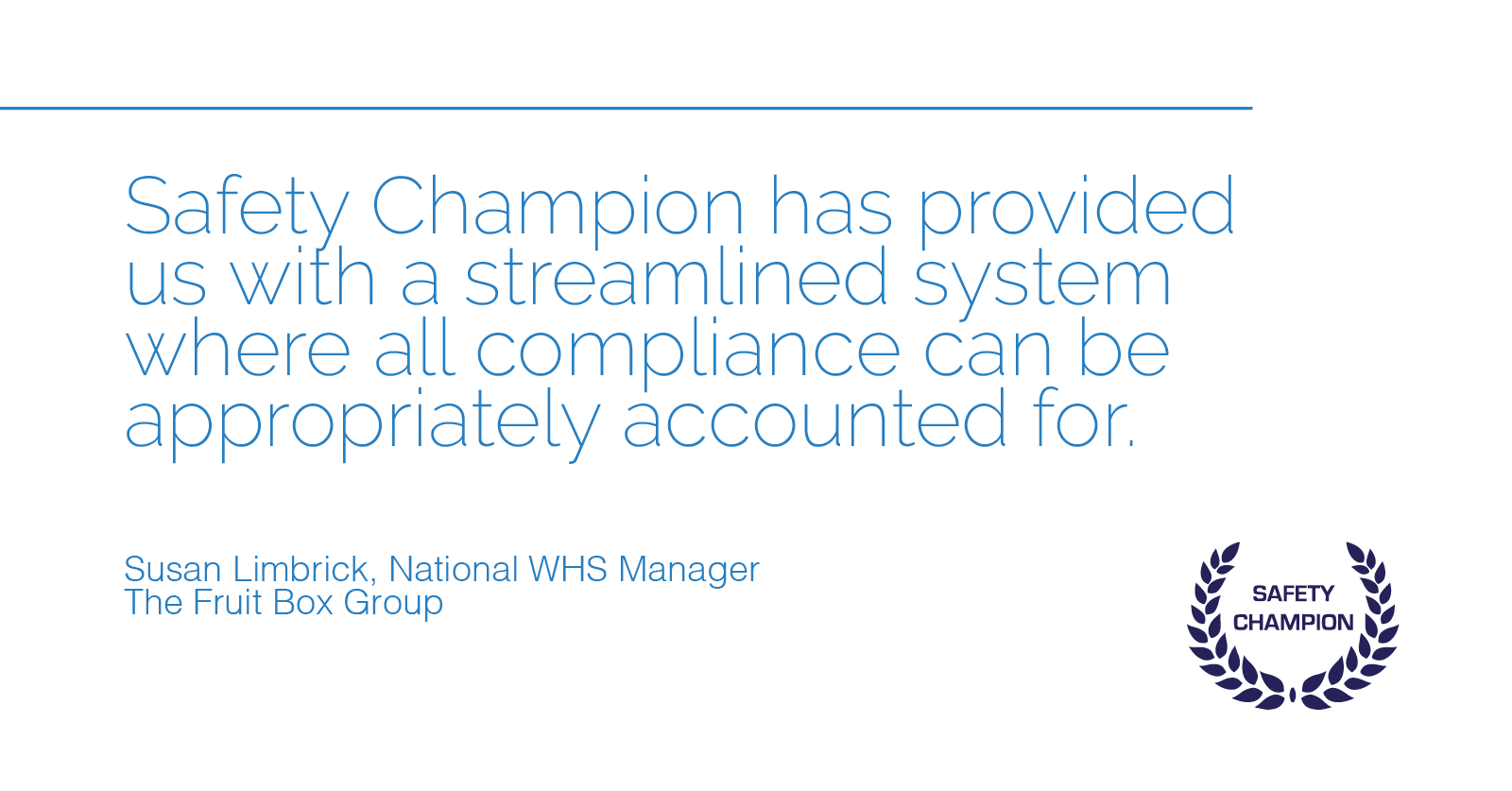 FAQ
How does Go Free Plan work?
It's easy! Simply sign up and receive access to the free version within minutes. No credit cards and no free trial periods. It's free, forever. This is a limited version of our comprehensive safety software system.
You get access to four great modules – incident, action/hazard, inspections, and safety planning – plus two users to share the safety load. Plus you get access to a full suite of how-to tutorial videos to guide you on how to set up and use the system.
Then, if you need more functionality, you can upgrade when you're ready. For more information, download our factsheet.
What is the difference between the 14-day trial and the Go Free Plan?
Our 14-day trial gives you access to our full and comprehensive safety management software. For two weeks, you can experience all of our modules and get a great feel for everything you can manage effortlessly in the system.
Whereas, our Go Free Plan provides you with free access to a limited version of the software. However, this is 100% free, forever, so it is great value for any business that doesn't necessarily require access to all of the great features and functions of Safety Champion's full system.
Can I change my plan later?
Yes, you can certainly change your plan at any time. However, when changing your plan, there may be a cost associated with migrating your data across. This is dependant on how much data you have in storage. To shift from a paid plan to a free or silver plan, please understand that we may not be able to transfer all of your data across, as the limited nature of the free and silver plans do not allow for all data types from the higher-tiered plans.
Do you offer Not for Profit (NFP) pricing?
Yes! We offer a discount of 20% to all NFPs on our paid plans. We do this so that you can redirect the funds saved into your internal programs and operations. In Australia, we use the national regulator of charities – the Australian Charities and Not-for-profits Commission – to determine your not for profit status and, therefore, eligibility for this discount. We use similar methods to determine your status in other countries.
Are there any setup fees?
For our Go Free and Silver plans, there are absolutely no set up fees. These plans come with video tutorials and webinar invites, which guide you through set up and best use of the system. These can be accessed absolutely free.
For our Gold and Platinum plans, we encourage and offer set up and support packages to guide you through set up. Depending on your needs, our support packages include guidance from our highly qualified health and safety consultants to ensure that the system works in accordance with your safety program and safety needs.
Is there a mobile app for the software?
Yes – we have both Android and iOS apps available on all of our plans – including our Go Free plan. These apps offer users the fantastic feature of offline functionality – allowing you to report even when there's no internet or wifi connection.
This is great for businesses in which internet connection may be shaky, or if your people are often working in remote locations. The apps let you report, then when you come back online, the system will automatically retrieve those reports and load them into the system.
Can I cancel my plan anytime?
Yes, for free plans you can cancel anytime! For paid plans, the minimum contract length is 12 months, unless authorised by the Safety Champion Head of Sales and Customer Experience
How does the billing process work?
We offer a monthly direct debit option or payment in full of one year, paid in advance. When you sign up, all customers are offered a discount of one month free, by signing up and paying for 12 months in advance. A great saving for your books!
Do I need to enter my credit card?
For our Go Free plan – no, you don't! We'll only ask for your payment details after you upgrade to one of our paid plans. Then, we will discuss what payment plan works best for you.
I am not sure which plan is suitable for my business. What should I do?
Please do jot down your details in this form and one of our Customer Experience Team Members will be happy to explain the benefits and differences between each of our plans. Or call us now on 1300 1 CHAMP
What is the response time after I submit a pricing enquiry?
We aim to get back to anyone who reaches out within 1 business day